Photo credit: Evan Blaser Photography
A young reader at Lighthouse Community Public School.
Centering Families And Community In Early Learning
The Kenneth Rainin Foundation believes that literacy is a civil right. We aim to transform early childhood learning so that all Oakland students can succeed regardless of their race, level of income or where they live. Learning to read is the bridge to academic and life success. In 2022, our grantees advanced equitable strategies to help young children read and thrive, while supporting families and fostering new literacy leaders.
In February, the Rainin Foundation welcomed Dana Cilono as our new Education Program Officer. One year later, Dana was promoted to Director, Education Strategy & Ventures. Dana's early childhood education experience and perspectives as a parent of three children attending Oakland schools strengthened our strategies and relationships. Through her leadership, the Education Program continued to invest in promising ideas and approaches that promote equitable results for Oakland's learners and their families.
"The Foundation is committed to responding to the shifting educational landscape and investing in promising solutions that are created by and for the communities we support."
—Shelley Trott, Chief Program Officer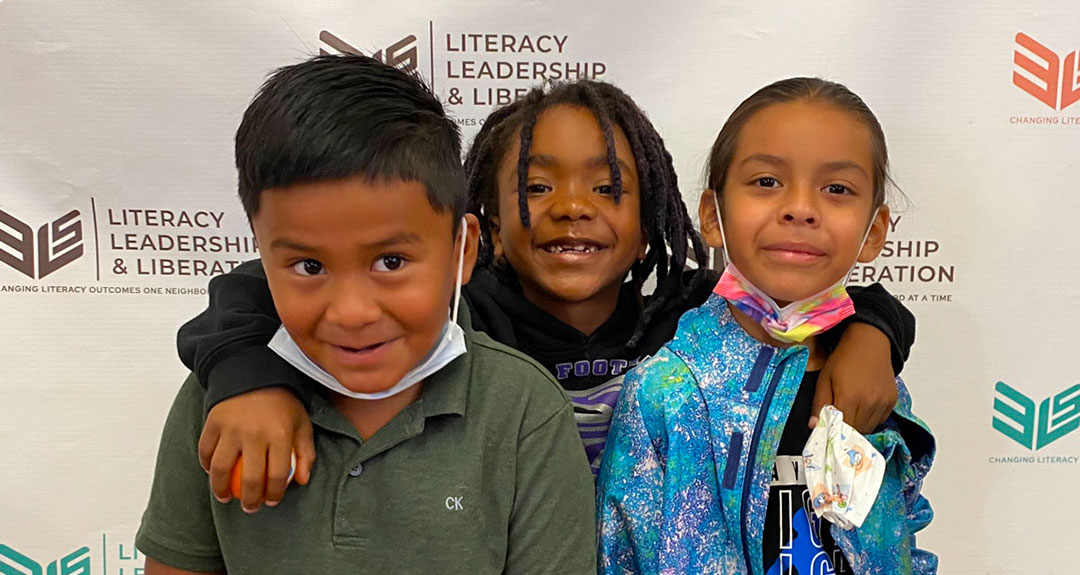 Photo courtesy of Literacy, Leadership & Liberation
Young readers at the Literacy, Liberation and Leadership's Packet Pickup Breakfast.
Championing Families' Essential Role In Education
The pandemic highlighted the pivotal role of families in educating their children. It also revealed longstanding inequities and exclusionary practices that are preventing all children from reaching their full potential. Numerous Black- and Brown-led organizations are supporting Oakland families by demanding equitable access to high-quality resources, improved instruction and literacy interventions that respond to community needs. They are also providing families with the data, tools and science of reading to fortify their children's learning at home.
In 2022, community-based organizations led the way in leveraging family expertise and power. Founded and run by parents, The Oakland REACH grew their cohort of literacy tutors to provide high-dosage literacy tutoring in and out of school. High Expectations mobilized teams of educators and parents at five schools that are using the SEEDS of Learning program. These teams are strengthening family-school relationships and supporting reading success at home. Tandem, Partners in Early Learning continued their StoryCycles take-home book program, offering families greater access to high quality books.
Our equity-focused strategies center family voice and perspective in decision making. We are committed to empowering families through access to information, people and processes that improve literacy outcomes.
"The pandemic illuminated the important role that families play in their children's education as advocates and teachers. Their dedication to their child's education is unwavering."
—Dana Cilono, Director, Education Strategy & Ventures
COMMUNITY REFLECTION
Bringing Parents To The Table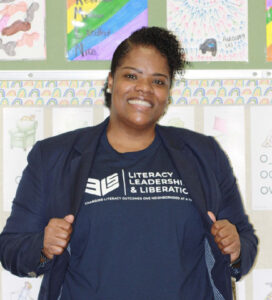 For Dr. Sabrina Moore, leveraging the power of parents and neighbors is key to progressing toward a fully literate community. Her journey to literacy positioned her to be a committed teacher and principal, and now the founder and executive director of Literacy, Leadership & Liberation (3Ls). The organization is focused on the four schools in Sobrante Park, Oakland, engaging over 2,000 students and more than 6,000 residents through their five "Lit Lab Academy" programs. Learn more about how this organization is changing literacy outcomes one Oakland neighborhood at a time.
Photo courtesy of the Early Literacy Kings
On the playground with Isaiah Chambers (center), an Early Literacy King at Prescott Elementary School in Oakland.
Investing In School Capacity And A Thriving Workforce
Educators and early care professionals are instrumental in a child's development. As schools returned to in-person learning, pandemic impacts weighed heavily on school systems, students and families. The critical need to address learning gaps and to seek newly available funding collided with teacher and staff shortages. The Rainin Foundation's grantmaking responded to meet these urgent and intersecting needs.
Our investments helped school leaders remain focused on quality instruction by expanding their capacity to apply for and manage an influx of public funding. Our 2022 grantees also championed solutions that support anti-racist cultures and sustain a thriving educator workforce. Oakland Unified School District's Early Literacy Kings sought to address the shortage of men—and especially men of color—in the classroom by creating pathways into education careers. Leadership for Liberation facilitated anti-racist training for cohorts of school instructional and administrative leaders. The Teaching Well worked to ensure a flourishing educational field. Their mental wellness programs and culturally responsive supports center educator well-being and sustainability. We are inspired by their trauma-sensitive and equity-centered approach to shifting oppressive systemic conditions.
"Having a young man of color in the classroom provides another picture for scholars. There's somebody in the classroom who understands them."
—Taji Brown, Program Manager of Early Literacy Kings within Oakland Unified School District, as quoted in The Power Of Reflection
Photo credit: Kelle Green
Latanya Brown helps a student write and identify letters through name writing. FluentSeeds' SEEDS of Learning reading framework and literacy tutors support students with foundational skills through meaningful interactions.
Advancing Evidence-Based Practices
To combat illiteracy, our strategies ensure that our grantees are leveraging evidence-based solutions rooted in structured literacy. This systematic approach to phonics instruction has been a focus of our Education investments over the years. We are excited to see the growing emphasis—both locally and nationally—on this proven model. Oakland organizations are increasingly using FluentSeeds' SEEDS of Learning reading framework and literacy tutoring. In 2022, FluentSeeds made equity-informed revisions to its frameworks, expanded thematic units to support more programs and created a new e-learning system with online training resources. We are also encouraged by the number of schools using the SIPPS (Systematic Instruction in Phonological Awareness, Phonics and Sight Words) program through a partnership between Oakland Unified School District, FluentSeeds and The Oakland REACH.
Our funding helped Oakland Unified School District and charter systems align their frameworks and staffing to more fully support structured literacy. Lighthouse Community Public Schools is updating their staffing model to create a diverse educator pathway through literacy tutoring. Aspire Public Schools conducted baseline assessments of student progress to identify learning gaps and will host citywide trainings to increase literacy leaders' expertise and collaboration. Education for Change is deepening its structured literacy work by analyzing data and bolstering instruction, interventions and curricula. And the Oakland Unified School District Literacy Project is increasing the capacity of principals and early literacy site representatives to scale literacy work. These shifts require resources, adaptive leadership and time and energy to support new mindsets and beliefs. Our multiyear grants give grantees space to learn and adjust.
"Initiating a major shift in literacy education will require a unified effort from philanthropy, parents, advocates and educators. But investing in more effective strategies such as structured literacy is more important than ever."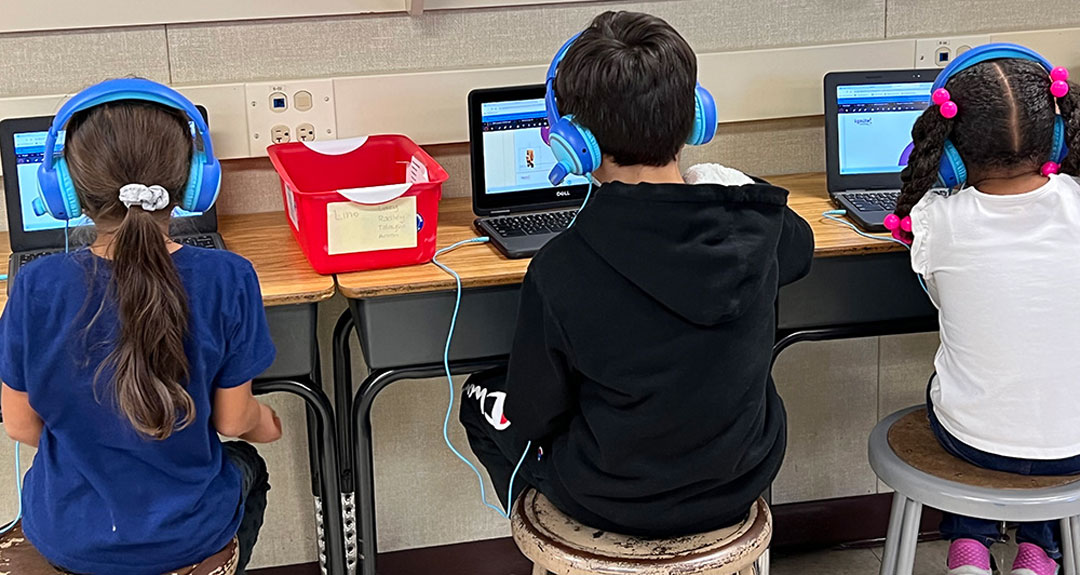 Photo courtesy of Ignite! Reading
Ignite! Reading provides Korematsu Discovery Academy students with virtual, one-on-one tutoring in the classroom.
Boosting Literacy Through Targeted Interventions
The Rainin Foundation supports a spectrum of evidence-based literacy interventions to counter the dual crises of pandemic learning loss and staffing shortages. Among them, Ignite! Reading is providing one-on-one virtual tutoring in daily, 15-minute sessions for kindergarten through second grade students at Oakland school sites. Students who receive this high-quality, evidence-based instruction are making 2.4 weeks of reading progress for every week in the program. Springboard Collaborative continues to support literacy growth for 1,500 OUSD students through their five-week summer program. And Literacy, Leadership, and Liberation Academy (3Ls Academy) is accelerating students' literacy through its community-based literacy centers.
We are committed to funding proven, equity-centered solutions like these that dramatically increase children's literacy development. The Foundation's learning and evaluation metrics are directly tied to teachers and families having what they need. We know that parent power plus educator skill and capacity—combined with community supports—are instrumental to children's literacy.
"If the system isn't ready to serve all children, then let's bring in a safety net that is going to make sure that they learn what they need to learn while we give the system time to catch up."
Photos courtesy of Oakland Literacy Coalition
Kareem Weaver, Founder of FULCRUM, was the keynote speaker at the 2022 Oakland Literacy Symposium "Literacy & Justice For All," a program of the Oakland Literacy Coalition.
Collaborating To Strengthen The Literacy Ecosystem
Our grantees also work to strengthen Oakland's strategic networks of early learning providers and the broader literacy ecosystem. FULCRUM and the Oakland Literacy Coalition are partnering to ensure literacy is prioritized as a civil rights issue. Their efforts foster collaboration and shared responsibility for school systems, nonprofits and funders, and promote more equitable distribution of resources.
Our Community Strategy Council (2020-2021) gave us vital insight into the challenges impacting early learners and how our strategies could embrace community-driven solutions. We continue to prioritize listening to the community, especially families, in our grantmaking and decision making. When our choices are rooted in community knowledge and experience, they are more effective, sustainable and equitable.
The Foundation also collaborates with other funders to ensure the literacy ecosystem is supported. Our efforts include advocating for improving literacy instruction and joining the Measure AA Children's Initiative Oversight Commission, which aims to deepen early investment in children and support them through college graduation. As a place-based funder, we know that our literacy expertise, rooted in Oakland, and a community-informed knowledge base can benefit other funders and strengthen our collective impact on young learners.
"The Community Strategy Council experience reminds me that engagement must be ongoing. A static understanding of an evolving community's perspective quickly becomes out of sync with their reality and needs."
Photo credit: Aspire Public Schools / Filmtwist Productions
At Aspire Public Schools, teachers apply their growing expertise to shape instruction in their classrooms.
Fueling Learning And Literacy:
2022 Grantees
The Rainin Foundation invested over $6 million in 2022 to improve literacy among Oakland's children.
Education grantmaking supports programs that help ensure Oakland children are ready for kindergarten and on track for third grade reading success.
Note: Financials are subject to audit verification.
Teaching And Learning
Aspire Public Schools
East Bay Agency for Children
Education for Change Public Schools
FluentSeeds
Ignite! Reading
GO Public Schools
Leadership for Liberation
Lighthouse Community Public Schools
Literacy, Liberation & Leadership Academy (3Ls Academy)
Springboard Collaborative
Tandem, Partners in Early Learning
The Teaching Well
Urban Ed Academy
Support For Families And Communities
Oakland REACH
Lotus Bloom
Oakland Promise
Tandem, Partners in Early Learning
Strategic Networks
FULCRUM
Oakland Literacy Coalition
Oakland Starting Smart and Strong
Policy
The City of Oakland Office of the Mayor